Model Data Kara's Handful
---
Content Table

| | |
| --- | --- |
| Updates | 28 |
| Photos | 1,460 |
| Videos | 14 |
Bio Table

| | |
| --- | --- |
| Country | U.S. |
| DOB | April 20 |
| Age | 19 |
| Height | 5' 3" |
| Weight | 120 lbs. |
| Bust | 34-DD |
| Shoes | 7.5 |
Welcome to KarasHandull.com
The Official Site
---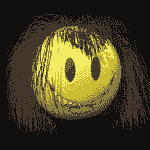 Kara was quite the handfull, for two reasons. Obviously, reason number one would be those Big DD bOObs, in which her proud mother blessed her with. The gorgeous 20 year old brunette was having the time of her life, shooting sexy topless pictures and video for her site, that is... until she was recognized by a patron at her workplace. This freaked her out, and she wanted to stop shooting topless because of it. Getting her to shoot in a sheer top after this incident, was like pulling teeth. Kara is truly a handfull, or maybe two handfulls... I sure would like to find out, wouldn't you?
This site's free range double d tittie content is unique. I say this because, Kara's photographer was Karen, from KarenDreams.com. She shot most of the pictures and video for this site, which makes the content even sexier than it already is. In addition to that, Kara's time on the Internet as a topless model, was short lived. She came and went, which in my opinion, increases the collectability of the sets. She's is probably married to some douche bag and raising a family, while we are jerking off to her tits! For these reasons, this content is unique and desireable... at least for me anyway.
A meaningful collection is built over time, with hard work and experiences.
Designed for All Devices
All phones, tablets, laptops, desktops, cinema screens, and HDTV's
The Dream Pass:
☆☆☆☆☆
---
* The Dream Pass Site List: karashandfull.com, karenandamy.com, karendreams.com, karensdreamgirls.com, kathyash.com, loveleia.com

| | |
| --- | --- |
| Updates | 586 |
| Girls | 7 |
| Photos | 24,859 |
| p-f's Secret Stash | 1 |
| Selfies | 38 |
| Outtakes | 86 |
| Videos | 797 |
| Webcam Videos | 214 |
| Animated Fun | 21 |
| Sites * | 6 |
Choose Your Membership: CCBill
---